Open Air Maulwurf
When the sun is out, we open our Maulwurf Open Air Patio! Take a seat, gaze at the plants in their terracotta pots, and enjoy a cold brew and good food along with the fact that you're not stuck in rush-hour traffic...
Our Beer of the Month
Our new beer of the month is Schönbuch Heller Weizenbock. This blond wheat bock a is a seasonal brew from the Schönbuch brewery in Böblingen, and we were lucky to secure the last three kegs for Maulwurf!
Vote for your favorite beer:
Our latest beers of the month are here - pick your favorite...
Our Wheat Beer of the Month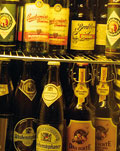 A wheat beer must be bottle-conditioned the old-fashioned way in order to become a wheat beer of the month at Maulwurf. Our current w.b.o.t.m. is Baisinger Teufels Weisse. This is a wonderful summer wheat beer, and it's from Württemberg. We Schwaben might not be perfect, but we brew some truly decent beers.
Whisk(e)y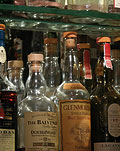 Have your own private Whisky Tasting at Maulwurf?

Sure thing! For 10 or more people, we do individual whisky tastings at Maulwurf. You tell us where your interests lie, or we make suggestions, pick a date and off we go on a journey through the history and the making of the water of life, and along the way we taste 6 different whiskies!
If this sounds good to you, round up 9 or more like-minded creatures and send us an Email!
Maulwurf Quiz
Work on your German skills and join us for the Maulwurf Quiz every first Tuesday of the month. Our quizmasters Marco and Simon have put together tricky questions and great prizes go to the winners. So round up your quiz group and put those thinking caps on!