Pin Ball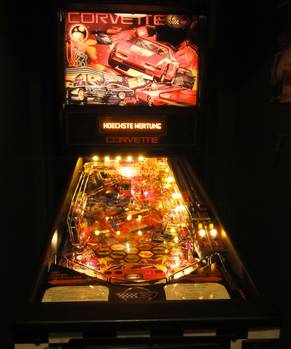 Pin Ball at Maulwurf
Every year when summer's over the pin ball machine returns to Maulwurf. This season, it's the Bally Corvette.
Our Beer of the Month
Our new beer of the month is Weihenstephaner Korbinian. The classic beer for lent is a dark bock, and that's why the dark bock from gthe oldest brewery in the world is our beer of the month during lent.
Vote for your favorite beer:
Our latest beers of the month are here - pick your favorite...
Our Wheat Beer of the Month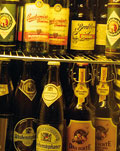 A wheat beer must be bottle-conditioned the old-fashioned way in order to become a wheat beer of the month at Maulwurf. Our current w.b.o.t.m. is Unertl Spezial-Weissbier.

The Unertl family have been brewing in Haag in Upper Bavaria for generations, and their refreshing nut brown wheat beer happens to be one of our favourites...
Whisk(e)y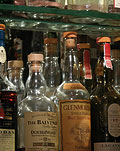 Have your own private Whisky Tasting at Maulwurf?

Sure thing! For 10 or more people, we do individual whisky tastings at Maulwurf. You tell us where your interests lie, or we make suggestions, pick a date and off we go on a journey through the history and the making of the water of life, and along the way we taste 6 different whiskies!
If this sounds good to you, round up 9 or more like-minded creatures and send us an Email!
Maulwurfs Bockbeer weeks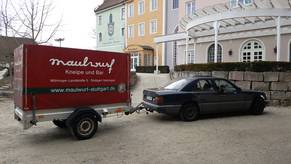 Maulwurfs Bockbeer weks
Lent is here, and to make up for all the potent food you aren't allowed to eat during that time, we stock up on potent beer! Every year we hitch the trailer to the trusty old Mercedes and pick a different region where we visit a great number of small breweries to pick up all kinds of bock beers for Maulwurf - and dachshund Gustav comes along for the ride... This year, we hit the Alps and made it all the way to Bozen in South Tyrol (for those geographical illiterates amongst you: that's in Italy!)
Maulwurf Quiz
Work on your German skills and join us for the Maulwurf Quiz every first Tuesday of the month. Our quizmasters Marco and Simon have put together tricky questions and great prizes go to the winners. So round up your quiz group and put those thinking caps on!