Our Beer of the Month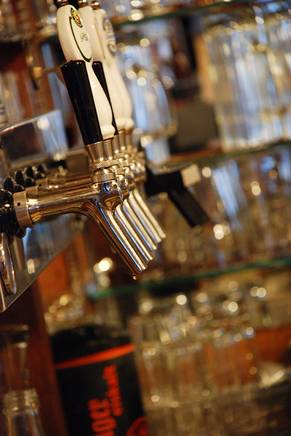 Our beer of the month: Schönbuch Helles Hefeweizen
No need for many words with this one: it's a legendary lager form Minich's oldest brewery, and every year in August, it is the beer of the month at Maulwirf...
Our Wheat Beer of the Month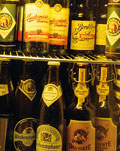 A wheat beer must be bottle-conditioned the old-fashioned way in order to become a wheat beer of the month at Maulwurf. Our current w.b.o.t.m. is Königsbräu Woiza.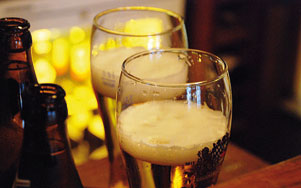 Maulwurfs wonderful wheatbeer weks
Maulwurfs wonderful wheatbeer weeks
Summer's here!
And the ideal summer drink, of course, is no other than wheatbeer - and that's why Maulwurf's wonderful wheatbeer are under way once more! We have stocked the big bottle fridge with more than 40 different wheat beers for everyone to find their favorite. Now, isn't that just wheatalicious?
Sunday at Maulwurf
Sunday Special at Maulwurf!
Every Suday, get your fill of Buffalo Chickenwings at Maulwurf! They come with our famous BBQ sauce and can be ordered just as a snack size or as a real meal, and you might add potato wedges, fries, a side salad, coleslaw or even corn on the cob.
Available every Sunday from 7pm!
Open Air Maulwurf
When the sun is out, we open our Maulwurf Open Air Patio! Take a seat, gaze at the plants in their terracotta pots, and enjoy a cold brew and good food along with the fact that you're not stuck in rush-hour traffic...
Whisk(e)y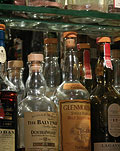 Have your own private Whisky Tasting at Maulwurf?

Sure thing! For 10 or more people, we do individual whisky tastings at Maulwurf. You tell us where your interests lie, or we make suggestions, pick a date and off we go on a journey through the history and the making of the water of life, and along the way we taste 6 different whiskies!
If this sounds good to you, round up 9 or more like-minded creatures and send us an Email!