Our Beer of the Month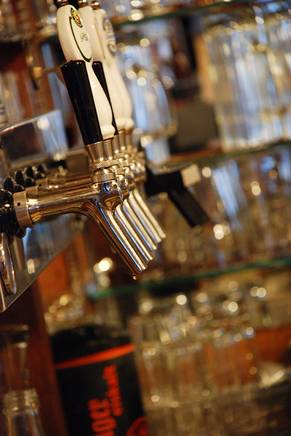 Our beer of the month: Bauhöfer Maibock
This wonderful blond bock hails from Renchen Ulm in theOrtenau region of Southern Badenia. It's dleciously creamy with a nice hoppy aftertaste, so don't miss it!
Our Wheat Beer of the Month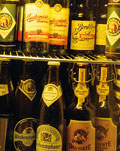 A wheat beer must be bottle-conditioned the old-fashioned way in order to become a wheat beer of the month at Maulwurf. Our current w.b.o.t.m. is Fischer Brau Bär Hefeweizen.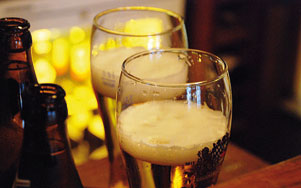 Pin Ball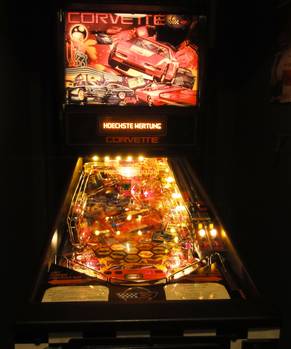 Pin Ball at Maulwurf
Every year when summer's over the pin ball machine returns to Maulwurf. This season, it's the Bally Corvette.
Open Air Maulwurf
When the sun is out, we open our Maulwurf Open Air Patio! Take a seat, gaze at the plants in their terracotta pots, and enjoy a cold brew and good food along with the fact that you're not stuck in rush-hour traffic...
Whisk(e)y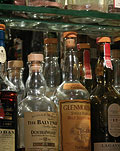 Have your own private Whisky Tasting at Maulwurf?

Sure thing! For 10 or more people, we do individual whisky tastings at Maulwurf. You tell us where your interests lie, or we make suggestions, pick a date and off we go on a journey through the history and the making of the water of life, and along the way we taste 6 different whiskies!
If this sounds good to you, round up 9 or more like-minded creatures and send us an Email!
360 degree tour
You've never been to Maulwurf, or you're far, far away and miss it terribly?
Then go on a 360 degree Maulwurf tour and heck everything out!