Current COVID Rules
Here are a few helpful things to know when you come to Maulwurf...
Baden-Württemberg has new Corona regulations.
Maulwurf , like all otherrestaurants, is now 2G+. That means in order to come here, it is necessary to
bring a

DIGITAL proof of vaccination

or

recovery AND
show your 2nd vaccination was no longer than 3 months ago OR
show a test certificate of today OR

show a proof of your booster vaccination
Meet the brewers
On Saturady Jan 29, from 6 pm until 10.30 pm, SinghBräu's brewmasrers Daniel and Danilo will bring SinghBräu's full range of beers to Maulwurf and do a tap takeover. The night's highlight will be their "Hopefnlöwe", a light bottom fermented beer, dry hopped with El Dorado. But there will be many more Singh beers to taste, so don't miss this opportunity to taste beers, talk to the brewers and maybe even take home a few bottles!
Maulwurf Vintage TAP6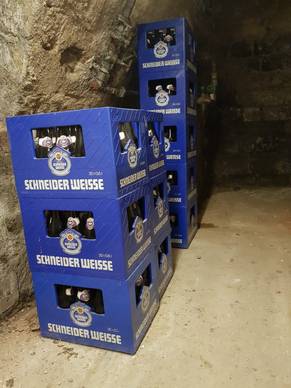 Now, that's special!
We have unearthed a real treasure from our vaulted brick cellar:
Maulwurf Aventinus Vintage 2016. For five years, this Aventinus (a.k.a. Schneider TAP6), the oldest wheat Doppelbock in the world, has matured in the depth of our brick cellar in the center of Vaihingen. As far back as 1999, Georg V. Schneider, who owned the Schneider brewery in the fifth generation, noticed the great potential this wheat bock had. He found that by maturing it in an environment with year-round cool, controlled temperatures, its aromatic profile was deepened, enhancing its sweet and malty notes and its fruity nuances.
Our Beer of the Month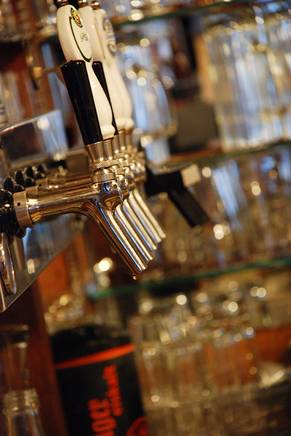 Our beer of the month: Singhbräu Dry-hopped Pils
Try this new interpretation of a classic German beer style, brewed by young Daniel Singh in his brewery at Weilheim on the Swabian Alb. It's un-filtered and adds a twist to a great beer style.
Our Wheat Beer of the Month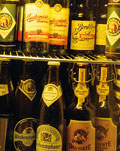 A wheat beer must be bottle-conditioned the old-fashioned way in order to become a wheat beer of the month at Maulwurf. Our current w.b.o.t.m. is Grünbachzer Braumesiter Weisse.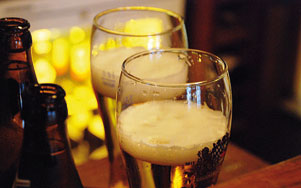 360 degree tour
You've never been to Maulwurf, or you're far, far away and miss it terribly?
Then go on a 360 degree Maulwurf tour and heck everything out!
Maulwurf has a tent!
Maulwurf has a tent!
If you miss having your beer in a tent at the Volksfest - we can help! To prolong the outside season, we built a tent next to Maulwurf, complete with infrared heaters...

So, no matter where you choose to have your pint at Maulwurf - cheers!
Swabian Cider on Tap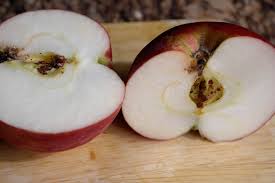 Swabian Cider on tap at Maulwurf!
Not for the faint at heart, it's reeaally tart!
Whisk(e)y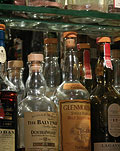 Have your own private Whisky Tasting at Maulwurf?

Sure thing! For 10 or more people, we do individual whisky tastings at Maulwurf. You tell us where your interests lie, or we make suggestions, pick a date and off we go on a journey through the history and the making of the water of life, and along the way we taste 6 different whiskies!
If this sounds good to you, round up 9 or more like-minded creatures and send us an Email!