Maulwurf against Quatar
In the past, Maulwurf Kneipe und Bar have made it their mission to celebrate the Football World Cup, showing every single match (even when kick-off times were not attractive) and creating a World Cup experience that meant more than just showing the games.
That won't happen for Quatar 2022.
We do not want any part in this tournament that stands against everything that a world cup means to football fans, let alone everything else that is wrong with how this World Cup came to Quatar and how it was prepared for.
Pubs against Quatar - no Quatar in our pub.
Maulwurf Tatort Lounge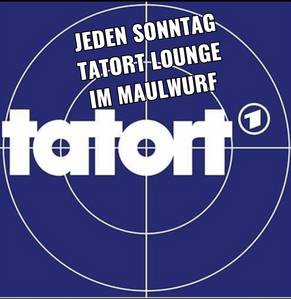 Every Sunday Maulwurf Tatort Lounge
Every Sunday night at 8.15 pm, German Public Television shows their Murder Mystery. For those who'd rather have company and a fresh draft beer with their Tatort, Maulwurf is just the place... And for those who don't want to watch, there is still plenty of room without Tatort.
Maulwurf Sportscast
At Maulwurf Kneipe und Bar we show all VfB Games live on the big screen. And what's more: if we can catch it on any of the channels available to us, we also show our second favorite club: Glasgow Celtic.